Article
New Jamf product portfolio take center stage during JNUC keynote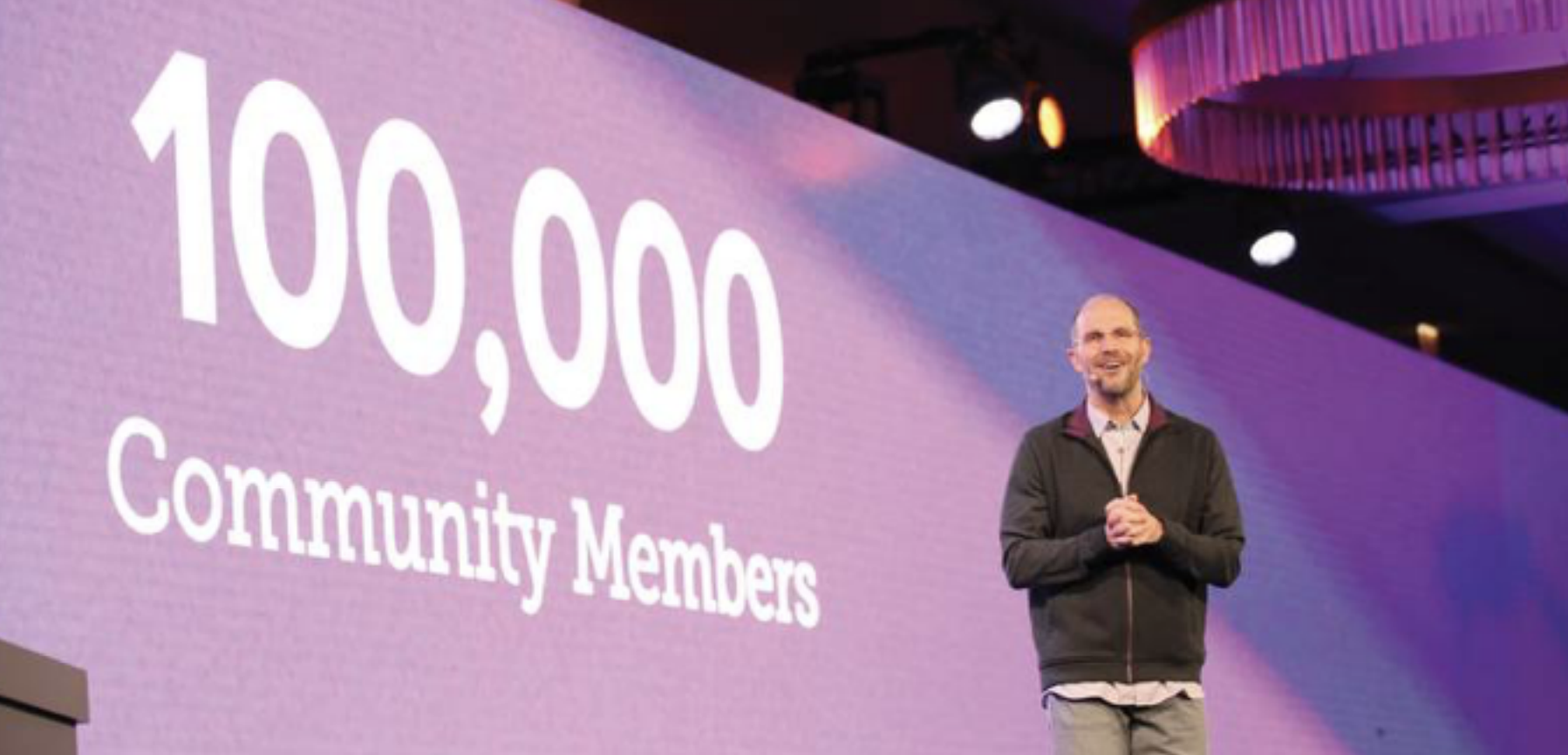 Dean Hager, CEO of Jamf, welcomed Jamf Nation to the 10th annual Jamf Nation User Conference (JNUC) at this morning's keynote.
"This JNUC is the best ever because we are celebrating JNUC number 10!" said Hager. It was a decade ago, when 100 Apple fans gathered here in Minneapolis at a local wine bar for JNUC 2010. Today, as you can see, a much larger Jamf Nation community still comes together every year to enjoy one another, learn from each other — forming, in my opinion, the tightest community in all of high tech."
Hager also announced another milestone: as of today, there are 100,000 Jamf Nation members. The nation members come from more 50 countries, representing 35,000 organizations from every industry.
"We are all here to learn how to better empower the people using those 15 million devices — so that they can become their absolute best. That is Jamf's purpose. And it isn't possible without the help of Jamf Nation," said Hager.
Hager then welcomed Jeremy Butcher from Apple Product Marketing.
Butcher talked the audience through Apple's approach to creating new features, and offered a retrospective on how managing Apple devices has evolved since the first JNUC, starting in 2009 activating iPhone through iTunes and Mac through Workgroup Manager, through to introducing Apple School Manager and Shared iPad for schools in 2016, and Apple Business Manager in 2018. Butcher shared that today, more than 150,000 businesses and schools are enrolled in these management programs across 69 countries — at scale. Today there are hundreds of organizations with tens of thousands of Apple devices including some, like IBM with hundreds of thousands of managed Apple devices. More on IBM later.
Butcher outlined the most recent improvements for enterprise and education across macOS Catalina, iOS 13 and iPadOS across the four key product focus areas:
Security: Gatekeeper for macOS and APFS
Management and deployment: User Enrollment — "is huge for us" — bringing an entirely new management model for BYOD that supports IT and end user privacy
Identity: new single sign-on extension makes it easy for users to authenticate across third-party apps and IDPs on iOS 13
Productivity: iPadOS: great new features for multitasking, text editing and desktop-class Safari
Hager regained the stage and spoke about educational initiatives: being a part of planting Apple classrooms across the world in countries like Haiti, Uganda and Senegal. He shared the story of one teacher, Aubrey, and how the Innovation Hub affected him and students with the student-centered method of teaching.
"I think we can all agree that technology is an avenue to a brighter future," said Aubrey via video.
Sam Johnson, Chief Customer Officer at Jamf, discussed Jamf's busy year in education. He outlined joining with ZuluDesk in the Netherlands last year, and how it is now known globally as Jamf School.
Johnson offered a brief introduction to and demo of Jamf School's features: ad-hoc classroom, static and smart groups, app distribution and the new ability to deploy scripts to macOS— as well as an outline of Jamf Pro's use in schools.
Jen Kaplan and Garrett Denney, Product Marketing Managers, Jamf, demonstrated enrollment workflows of traditional provisioning versus. staging and personalization after apps have been deployed leveraging a preview of Jamf Connect for mobile devices. This was done leveraging secure cloud identity. One workflow leveraged user authentication with Google Secure LDAP, a feature supported for all Jamf Pro customers in an upcoming release.
Jamf Connect for mobile devices extends seamless provisioning and identity management features organizations already use on a Mac to iPad and iPhone. This authenticates students to devices and to their classes for instant app availability, reducing burdens on school's networks. Jamf Connect for mobile devices will be available in 2020.
Molly Schmidt, Product Marketing Manager, Jamf School, demonstrated purpose-built applications for education from a teacher's and parent's perspective, extending Apple device management beyond the IT staff. She offered a demo of the Jamf Teacher app, showing the ability to curate lessons, including specific application sets, limiting app usage only for the time of the class itself. In addition to lessons, Jamf Teacher app acts as a great companion to the Apple Classroom app with the ability for a teacher to install new apps.
She also demonstrated Jamf Parent, displaying the ability for parents to have similar abilities to focus their child's device use to education tasks at hand. Just like Jamf Teacher, these restrictions are time-based and anything a school district defines as a broad IT policy may always be defined regardless of school hours.
Jamf Parent available today in Jamf School and Jamf Pro
Jamf Teacher is available today in Jamf School, and is coming soon to Jamf Pro


It's not only students who prefer to use Mac, pointed out Hager. Enterprise staff prefer Mac as well: forward-looking organizations are allowing employees to choose to use a Mac.
Hager also spoke about the money enterprise saves with every Mac they deploy. For instance, a recent study by Forrester Research showed Mac reduces hardware and software costs by $678 per device through reduced support and operational costs over a three-year span.
Hager welcomed the CIO of IBM, Fletcher Previn, to tell us more.
First, Fletcher outlined the scope of IBM and its technology needs, which are vast:
350,000 full time employees
35,000 contractors
385,000 IBMers worldwide
170 countries represented by IBMers
30% of IBMers work remotely
12k total employees
$2.6B annual IT budget 4
,500 application portfolio
1,300 IBM locations globally
75M square feet 520 data centers
6,000 printers
1,900,000 help desk tickets each year
504,000 laptops under management Provision
135,000 laptops per year

60% windows
30% macOS
10% Linux
He then outlined his strategy to create a productive environment for IBMers, continuously improving the work experience.
To empower employees to reach their maximum potential, Mac@IBM launched in May 2015. Since then, IBM has deployed more than 290k Apple managed devices.
Here's what IBM found for those using Mac at IBM managed by Jamf:
User experience: Net Promoter Scale (NPS) is 32.5 points higher for Mac: 15 for Windows, 47.5 for Mac
Keeping macOS up to date is easier, with 1/8th the number of major software updates per year compared to Windows: Windows had 95 major updates, and Mac 12
Migrating to a new device is easier for macOS users – 5.5 times the number of Windows users report difficulty compared to macOS Macs are easier to manage at scale: around three times the number of system admins are required for Windows vs macOS Macs require less help desk support: Windows users are 5 times more likely to need on-site help desk support.
Seller performance: High-value sales deals are 16% larger for macOS users, compared to Windows users
Employee performance: IBMers who choose Mac score higher on their annual performance assessment than Windows users
Employee retention: IBMers who choose mac are 17% less likely to leave IBM
Employee-choice programs have certainly paid off for IBM!
To show the latest in how Jamf provides the best Apple experience at work, Michael Devins, Group Product Manager, offered a demonstration of what's new and coming soon to Jamf Pro:
User enrollment that respects privacy while also enabling IT to provide a better management experience for the types of business specific settings that may need to be set
Passcode payloads allowing for more granular control
Self Service is now fully supported on user enrollments
Enrollment customization automates the process of onboarding
Jamf Connect: now, easier management of settings that fully address the way you actually use and connect your devices with custom settings
New: access to Microsoft Office: Jamf Pro can manage native Office 365 settings through the same admin panel right in Jamf Pro


Kaitlin Shinkle, Senior Director, Product Strategy for Jamf Connect then walked convention-goers through the process of a new employee onboarding with a custom splash screen, cloud IDPs and Jamf Connect – which syncs passwords. She also showed the audience how users can sign into their personal iPads to access their work information, but also keep their personal information secure.
Hager resumed the stage, discussing the impact that feedback from Jamf Nation has helped to shape our products.
"Jamf Nation told us resoundingly, they needed a Mac-native security endpoint protection," said Hager.
Admins were using endpoint protection originally meant for Windows, which sacrificed experience in the name of security and wasn't as effective. Cross-platform endpoint protection was not meeting the core needs that CISO's had for the Mac.
"What if," said Hager, "there was a product built specifically for Mac, and designed to meet the demanding requirements of Mac users? Jamf Nation, I am thrilled to introduce you to a brand-new product. Here is Jamf Protect."
Product Strategy leader for Jamf Protect Josh Stein walked the audience through the capabilities of Jamf Protect.
Jamf Protect offers CIS benchmark insights, Apple Security frameworks and detections of possible security threats.
View computers in or out of compliance
No scripting or maintenance for user
Built-in features protect privacy for users
View blocked processes and immediately identify issues
Jamf Protect alerts admins to activities aimed at bypassing controls: suspicious events like password hack dumps, keylogger detection, etc. You can now preemptively prevent process execution from user space. Configure a list of processes to block by known bad binaries or team id, code director hash, etc.
In addition to insights and visibility into detections, Jamf Protect and Jamf Pro can work together to automatically predict and remediate security attacks. When a security threat is detected, popups alert the user and restrict access to minimize the risk to the rest of the enterprise, and automatically adds the device to a Smart Group of all computers with similar security threat events.
Joel Rennich, Director, Jamf Connect/NoMAD, next outlined some new features in Jamf Connect.
He demonstrated how users can remediate security threats through Self Service. Users can run known fixes themselves, which will restore access to the corporate network.
Rennich offered a preview of an addition to the Jamf Connect mobile app which allows you to use your phone to log in to your Mac or Windows computer without a password, available soon.


Hager closed with a message to all participants: "I'm so excited for what lies ahead of us. I am so grateful for what you've done. We are 100,000 strong. Together, we are Jamf Nation. Have a great week!"
Jamf Blog SHARE Haddayr CopleyWoods