As the office evolves and more employees continue to work remotely, businesses are looking at how a work-from-anywhere experience can support better collaboration and higher cost savings. There's no longer such a thing as business as usual. Employees, business partners, and customers have new work habits, expectations, and requirements.
What work is and how it gets done looks different for everyone. But all employees now expect to be able to communicate and collaborate effectively from anywhere and on equal footing, regardless of whether they're in-person or attending meetings virtually. Successful hybrid work experiences feature three essential elements: flexibility, consistency, and equality.
ACCORDING TO HARVARD BUSINESS REVIEW, 98% OF ALL MEETINGS NOW HAVE AT LEAST ONE REMOTE PARTICIPANT—AN INCREASE OF MORE THAN 1,000% IN LESS THAN TWO YEARS.
So how can businesses create a strategy that delivers on the need to extend the workplace outside the office walls? That's where IT comes in. Having the right technology will make a big impact on overcoming the challenges of today's work-from-anywhere world—especially when it comes to collaboration between remote and in-office employees.
Following are three key opportunities for IT to help solve the common challenges of work-from-anywhere meetings and calls so employees can be their most productive.
OPPORTUNITY #1 WORKSPACES
PROVIDE AN EQUAL COMMUNICATION EXPERIENCE, REGARDLESS OF LOCATION
The rise of remote and hybrid workplaces requires you to rethink what in-office employees need and want. Today's offices are filled with a variety of spaces that both individuals and groups use to get work done. By understanding the different types of spaces in your office and how they're susceptible to noise and distractions, you'll be able to equip them with the right audio and video devices to make employee collaboration successful.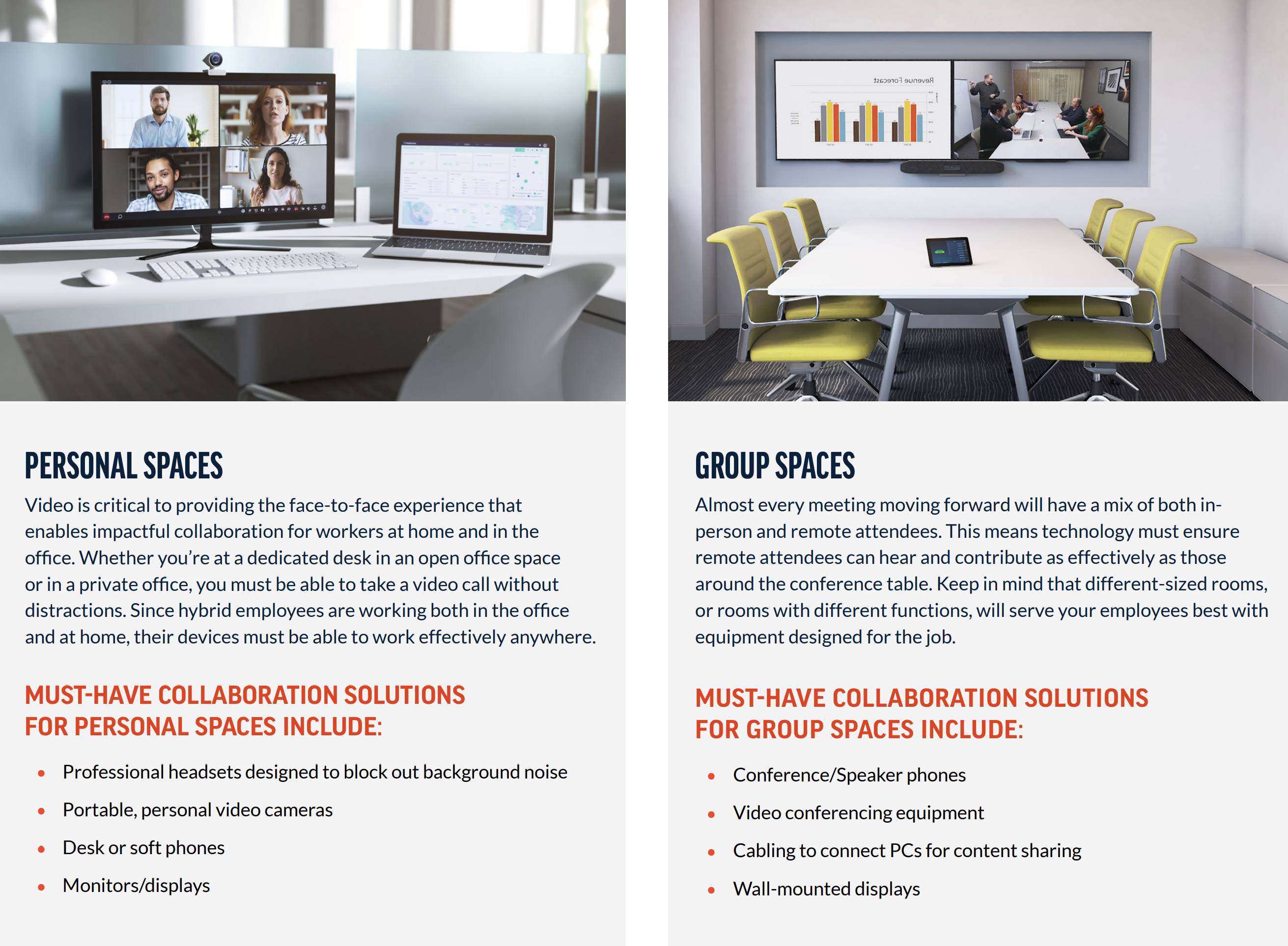 OPPORTUNITY #2 PEOPLE
EMBRACE EMPLOYEE WORKSTYLES AND PREFERENCES
Each employee has specific technology needs to excel in their role, whether at home or in the office. Understanding their preferences for how and where they plan to work helps promote employee confidence and engagement and puts people on an equal footing no matter where they're located.
Research shows that 92% of employees in an enterprise can be categorized into six different workstyles.
Here are the six most common types of workers you need to accommodate. Use these insights as building blocks to create a technology strategy that meets the needs of every employee. Benefits include more empowered workers, less fatigue, higher productivity, and support for your diversity and inclusion initiatives.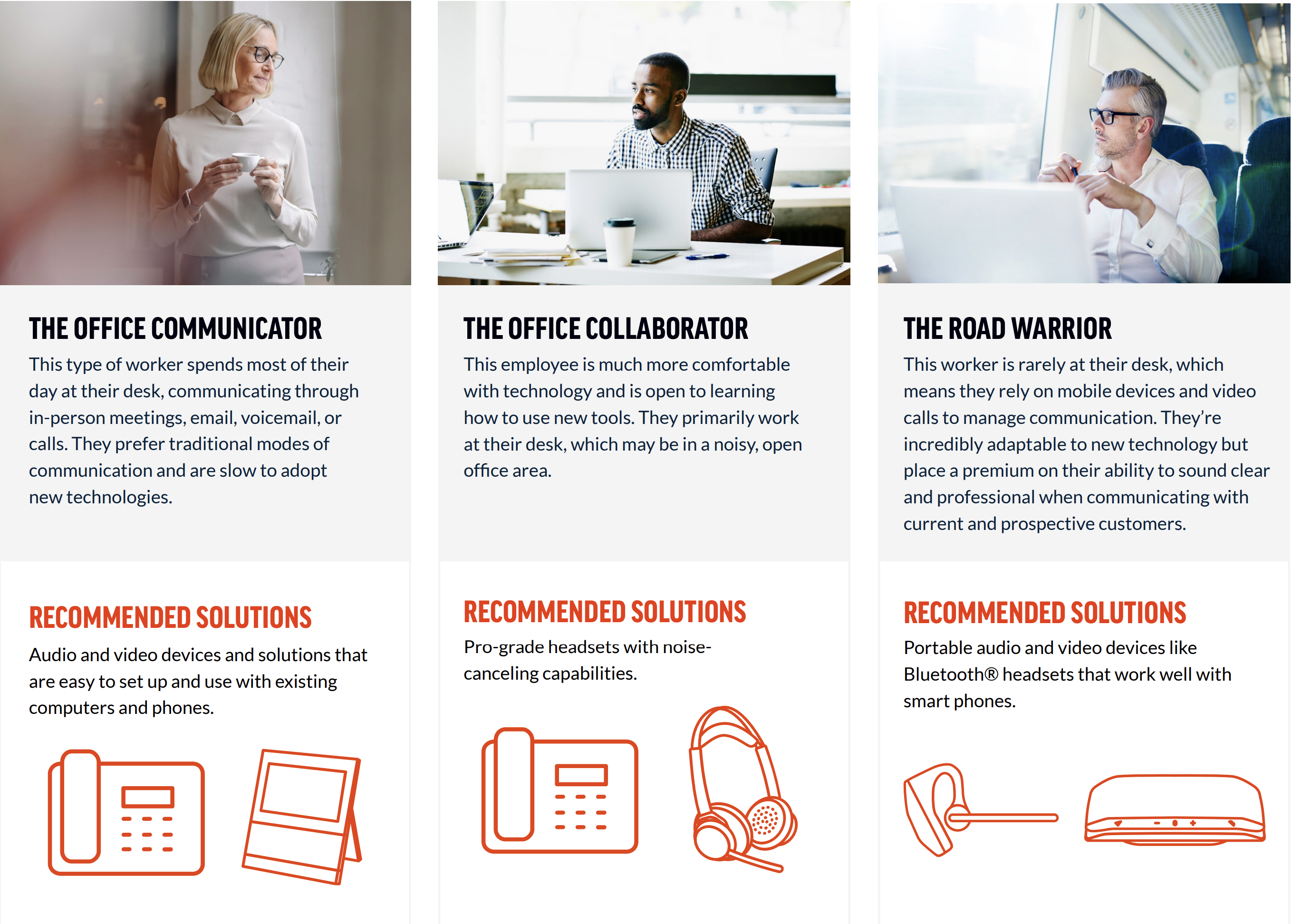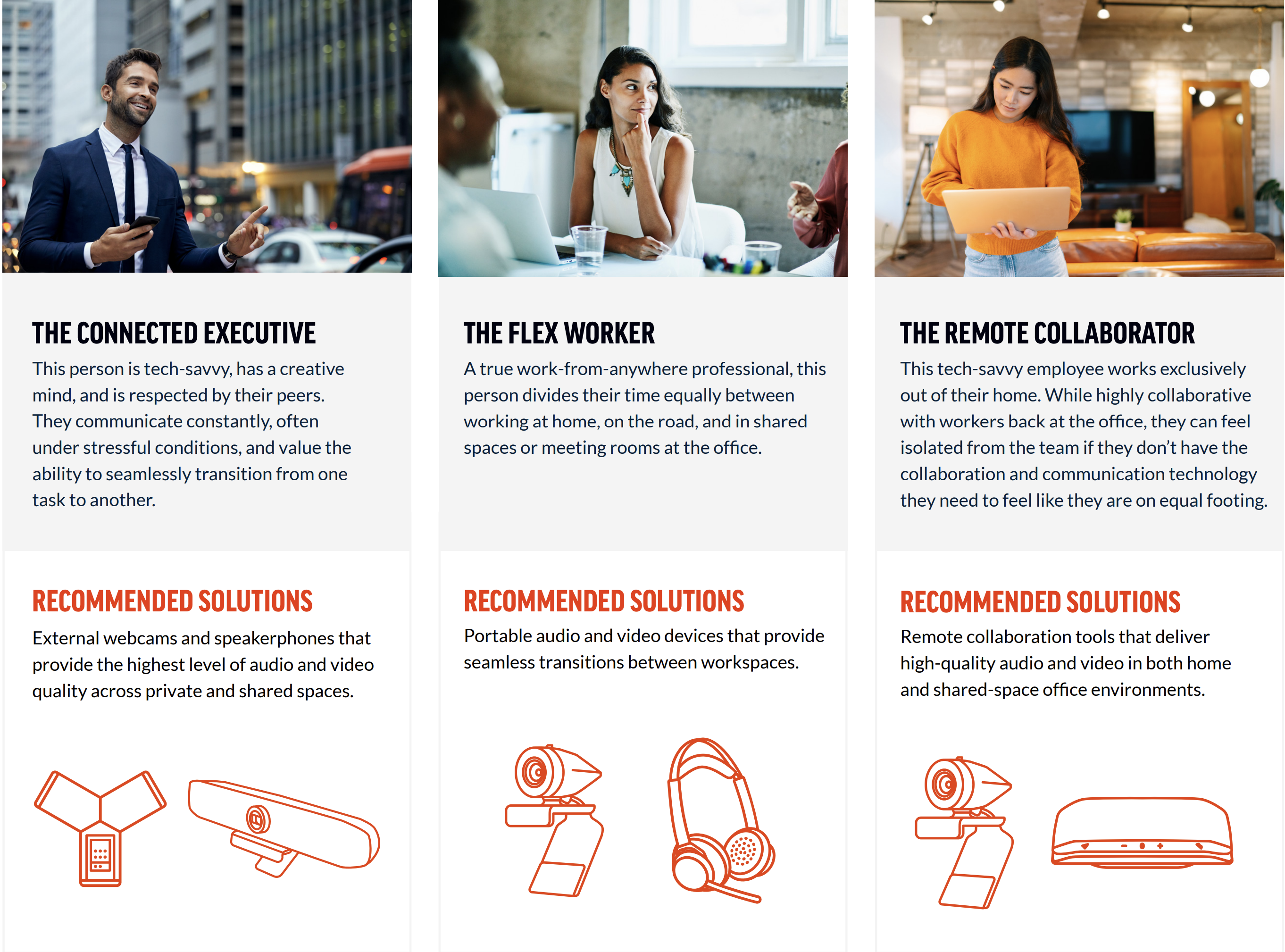 OPPORTUNITY #3 TECHNOLOGY
CREATE CONSISTENCY ACROSS SPACES AND PLATFORMS
Look for collaboration tools that enhance the meeting for people on both sides of the call. Today's leading technology solutions feature HD audio microphones and speakers, seamless content sharing between devices, and HD tracking cameras that can use facial recognition technology to automatically follow and frame the speaker. This helps remote participants pick up subtle audio and video cues and engage just as deeply as the people around the table.
When adding technology to improve the virtual meeting experience, make sure it's both easy to use and consistent across the entire office. The reason is simple: It's in everyone's best interest that employees can dial into meetings without IT assistance.
AROUND 15% OF THE TIME SPENT IN MEETINGS IS WASTED TIME, LARGELY DUE TO INEFFICIENT MEETING ROOM EQUIPMENT.
Employees don't want to waste the first 10 minutes of a call trying to get the technology to work correctly, and you don't want to get called to troubleshoot every meeting.
However, creating a seamless video conferencing experience that requires little or no IT intervention is a challenge. That's why the endpoint devices you employ should be interoperable and work seamlessly with many different platforms and services. Your goal should be to provide your workers with a simple and familiar experience no matter what space they happen to be using so that they can be instantly productive. Delivering a consistent and great employee experience demonstrates that IT is a proactive, positive force for change in the company.