ARTICLE
Exclusive Interview: Three Former Public Safety Professionals Say These Technologies Could Have Made Their Jobs Easier And Safer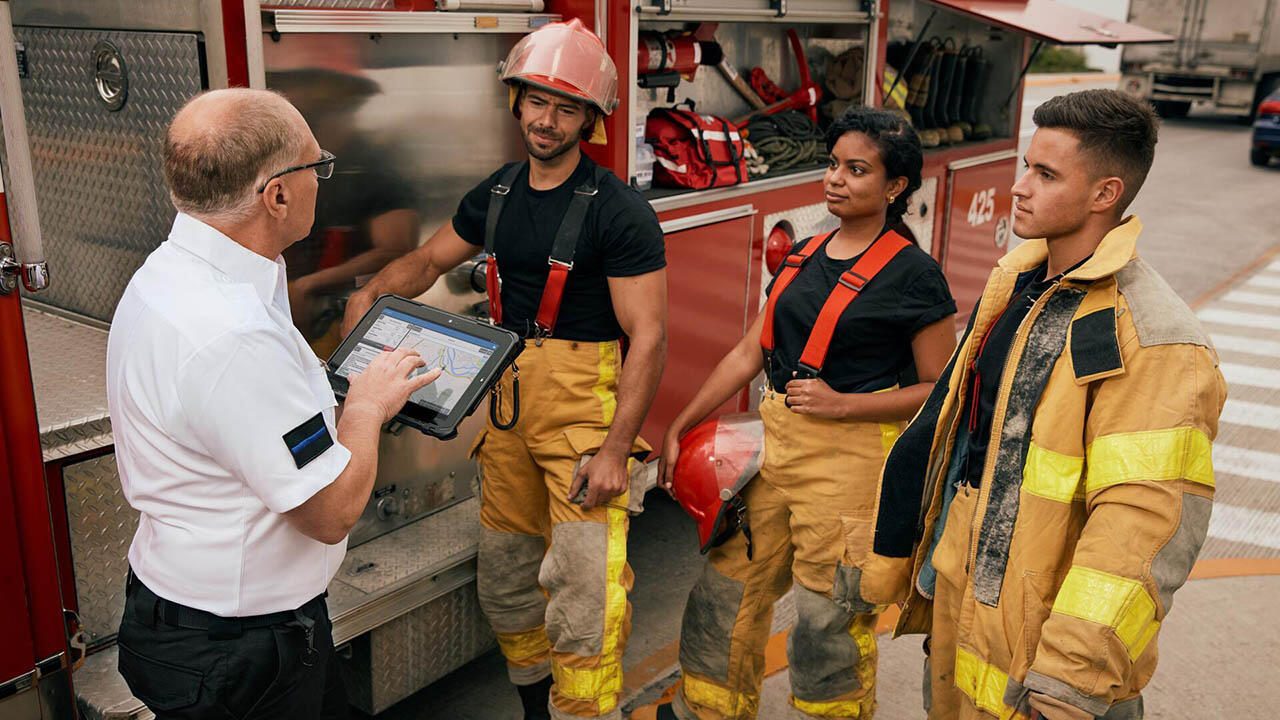 THAT'S WHY THEY ARE NOW WORKING WITH LAW ENFORCEMENT, FIRE AND RESCUE AGENCIES TO GET THEM INTO THE FIELD. THEY WANT TODAY'S FIRST RESPONDERS TO HAVE THE FULL SUPPORT AND SITUATIONAL AWARENESS THEY NEED.
When Zebra Senior Sales Engineer Rob Karsch joined the Bristol Police Department in 1981, he had to use pen and paper – or typewriters and transcriptionists – to complete reporting. Considering that reporting takes 80% of an officer's time (when not responding to calls), he was very appreciative when technology tools became available to help expedite this detail-oriented task. But as Rob and his department learned the (very) hard way, not all technology can get the job done. That's why he has spent the last 20 years working closely with state and local government agencies to develop and implement technology solutions built specifically for the needs of public safety professionals. He experienced firsthand the difference between manual and digitalized workflows during his 20+ years as a patrol officer, and he knows that it's not enough to just give officers the least expensive consumer laptops or tablets. (They failed Rob and his team on many occasions, setting them back to the stone – or paper – age at the most inconvenient times.)
Matt Wroughton, the Government and Public Safety lead for Zebra in the UK and Ireland, is a strong advocate for technological innovation and improvements in the emergency services space for a similar reason. He was in the UK Fire and Rescue Service for nearly 15 years and saw a massive change in culture, operational models, safety measures as well as technology utilization during that time. He knows the risks of rushing toward technology just for the sake of digitization, as well as the risks of rushing into a fire without the right technology in hand. Now, he collaborates closely with cross-functional teams within Zebra and public safety organizations to research, develop and implement technology solutions that support the operational effectiveness and efficiencies needed across the entire government sector. He wants to make it safe, easy, and efficient for all first responders to communicate and coordinate responses during incidents.
Steve Wright, who joined Zebra in 2021 as our global Government Practice Lead, has spent the last 20 years in the government space and has extensive experience both procuring and using technology at the federal public safety level. He knows the barriers to adoption and is working hard to break them down. Not for the sake of Zebra or even government, but for the people served by government agencies – people like you and me who rely on fast access to emergency services support. He wants to ensure the right people can be dispatched to the scene and know exactly how they can help by the time they arrive on the scene. Steve also wants to ensure the systems engineers and IT teams responsible for keeping communications channels open and situational data accessible know how to properly select, secure, configure and manage the hardware and software used on the back end and front lines. He knows the requirements for today's cloud-based systems are very different than the on-premises infrastructure used by government for decades – and he wants to ensure customers are thinking ahead so they aren't buying systems that will be obsolete by the time they're implemented. As you will hear in this in-depth interview, all three experts see themselves as government and public safety experts first, even though they are some of the most experienced technologists in the industry. Their front-line experience is what makes them such effective problem solvers. They know what technology can do, and they know how it can better be applied to better protect first responders and the people they're serving.
Listen to what they had to say:
Only have a few minutes? Here are some key insights you won't want to miss:
(15:20) How far technology has really come in the last 15-20 years and how much further we must still go to fully support front-line workers, investigators, inspectors and others who protect and service our communities. (Do you remember the days when military, law enforcement and fire and rescue ops were executed without mobile or in-vehicle devices? Or what it was like using those early mobile data terminals on 3G? These experts do, and they have some chilling stories that will make you say "Wow!")

(21:29) Why we haven't seen the public safety sector standardize on a single communications platform – and the two-way radio is still so prolific – despite the emergence of more mature mobile computing technologies. (And why we're grateful bag phones were retired once and for all!)

(24:27) How the continued use of pen and paper could harm public safety. (And how carrying too many devices into the field won't bode well for first responders either.)

(26:31) The role that RFID, artificial intelligence, machine learning, and automation solutions are starting to play in law enforcement, fire and rescue operations. (Even by agencies that are just now starting to digitize data at a fundamental level.)

(28:18) What is actually driving technology innovation in public safety right now. (And what could hold it back with consequence if we don't reassess risk tolerance or limitations of legacy operating models.)

(30:20) What government agencies should be thinking about when procuring technology for first responders and other public safety officers. (There is a right – and wrong – way to research, test and select technology solutions.)

(33:21) What public safety decision makers – commanders, chiefs, even IT teams – should be prioritizing the supply chain, automation, safety, intelligence, reliability and "the three Cs" in the next 12-18 months. (And why no one should be panic buying, despite the urgency for technology-derived solutions.)